School for Astroparticle Physics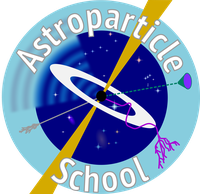 We are delighted to announce that the Astroparticle School 2022 will take place from Wed, 2022-10-05 to Thu, 2022-10-13. We are looking forward to see you at the Astroparticle School 2022 in Obertrubach!
Registration period for this year has already passed. We would be happy if you consider participation in 2023.
Last update: 2022-09-02
---
The first School for Astroparticle Physics was organised in 2004. Since then, it takes place each October. It primarily addresses graduate and PhD students from all fields of experimental and theoretical astroparticle physics.
The School offers the participants education in a wide range of topics from astrophysics, particle physics and cosmology, as well as in-depth coverage of topical developments in astroparticle physics. A further goal of the school is to stimulate contacts between participants and lecturers to strengthen long-term cooperation and synergy effects in the community of astroparticle physicists.
For more information and registration for this year's school click on the link below.
Organisation Commitee
Prof. Dr. Gisela Anton, Prof. Dr. Uli Katz, Prof. Dr. Stefan Funk, Prof. Dr. Christopher van Eldik, Prof. Dr. Anna Nelles, PD Dr. Thomas Eberl, Dr. Jürgen Hößl, PD Dr. Ira Jung-Richard, PD Dr. Robert Lahmann, Dr. Alison Mitchell , Sebastian Fiedlschuster, Andreas Zmija
October 2022
October 2020